Back in the infancy of the world wide web, frames were a pretty useful tool.  They allowed a designer to have multiple panels on a page with one or more displaying consistent content (like a menu).  With the advent of the modern web programming languages such as Active Server Pages (ASP), PHP & ASP.Net, frames are now really nothing more than a relic of the past. In fact, they can actually be harmful to your site's performance in the search engines and your customer's user experience.
Some of the main downfalls of frames in today's SEO concerned world:
Page URL – In a framed site, when you click around from page to page, the URL will never change as it keeps the URL of the parent frame.  This can be a little frustrating to the end user, and they never really know where they are at any point in time.
Bookmarks: Hand in hand with point 1, if a user tries to bookmark a particular page in your site, since the URL never changes, the bookmark will always be to the base URL.  Frames denies your user a way to quickly get back to a drilled-down point in your site.
Search Engine Indexed Pages – This may be something that is never thought of when a frame based website is designed. Say your site has a layout similar to this (it is intentionally bright for demonstration):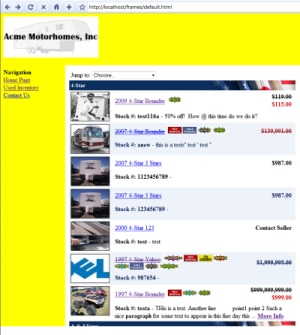 A search engine may index your site including your framed in pages.  When a visitor clicks through the link listed in the search engine, they will return to the actual source page of the frame not the entire framed site itself. Typically this means the menu frame suddenly disappears from your page. Ie:
This could lead to a visitor reaching a single, dead-end page with no way to navigate to the rest of the site.
Even worse, depending on how the frames were constructed, some of your internal links might even be invisible to search engines.
In all, unless you have a specific requirement for the use of frames, they really should be avoided.  Are you tired of being framed in?  If so, contact us at Netsource and we'll straighten our your situation.