NetSource Technologies, Inc. is proud to announce the launch of First Baptist Church of Ocala's new custom website! First Baptist Church of Ocala ( FBC ) has been a pillar in the Ocala Community for many years… Dedicated to helping members of the community grow in their faith.
First Baptist Church of Ocala Gets a New Custom Website
The new custom website for FBC is a WordPress site with a custom theme.Made custom to accommodate their specific needs. This new website is not only clean and simple in design, but user friendly as well. Making it not only easy for back-end administrators to manage, but also smooth and easy for users to navigate  at the same time.
Their new website also comes with a newly designed logo. This new logo, along with the website design, brings the church together in a cohesive manner. The site has a more modern feel to it in order to match the path of the church itself, but brings in classic elements at the same time. Combining the modern with the classic, just as the church itself is doing with its services and sermons.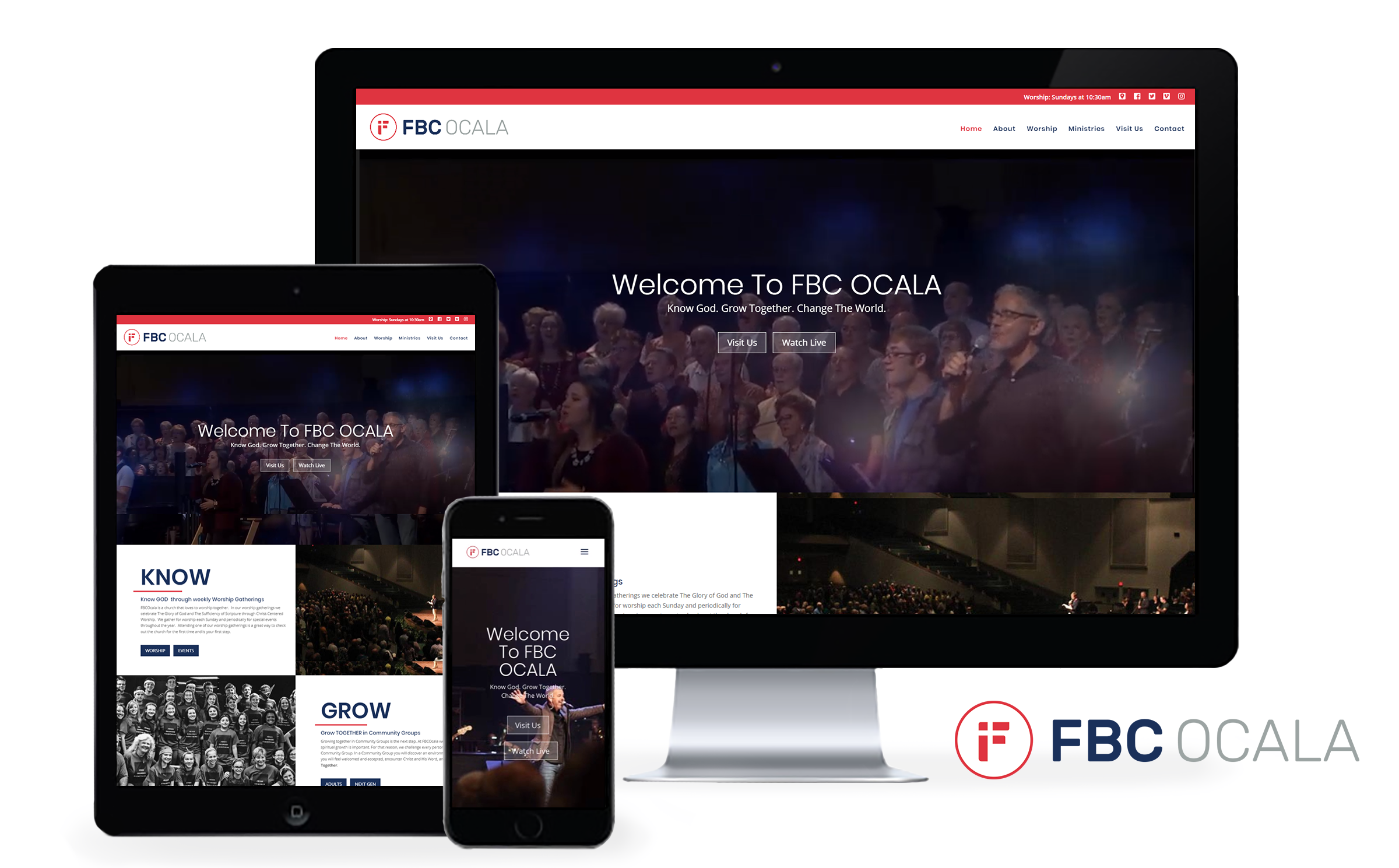 The newly designed website was built with the congregation in mind at all times. We know that not everyone has access to a laptop or desktop, which is why all of our designs, including the new FBC website design, is built mobile first. A responsive design which is compatible with iOS and Android devices makes this site perfectly fit for this generation.
It's one thing to make a great website. It's another to make that website easy to search for and find. That is why when we created the FBC site, we made sure it was SEO optimized. .. Using keywords and phrases in each page. Customers often use these words to search for goods and services, making SEO optimization and integral part of website design. With our SEO design services in place for FBC, they know be ranking for important keywords on Google and Bing search engines.
Netsource Technologies, Inc.
NetSource Technologies is an award-winning web design, hosting, e-commerce and consulting company that has been serving Ocala, FL and clients nationwide since 1995. Our design team specializes in creating custom websites for clients in every industry.Visit www.netsourceinc.com for more information on our services and to view additional client websites. Does your business need a new website? Contact Us Here!