If you've spent any time on the Internet in the last 15 years, you've probably heard of Pinterest. It is a fantastic place to discover new websites, ideas and products that will make you your life better! It can be used as a source of inspiration for a trip, a home improvement project or meal ideas for your family. Have you ever wondered if it would be possible to get your business discovered by users browsing for ideas on Pinterest? That's what the social media marketing experts at Netsource Technologies do. We've compiled some tips for you on how to use Pinterest for your business.
Driving Leads Using Pinterest for Your Business
The reason Pinterest is such a valuable platform for your business to be on is because it provides direct links to drive traffic and leads to your site. Unlike Instagram, where links are not supported, Pinterest encourages users to click through to the webpage where the pin originated from. They aren't so much focused on keeping you on the platform as they are providing valuable content that will keep you coming back to the platform.
Additionally, Pinterest is more like a visual search engine than it is a social network. Much like Google searchers, users searching on Pinterest are typically warm leads who are looking for the exact thing your business offers. The key is making sure they find you in the algorithm, and your content entices them to click through and explore your business.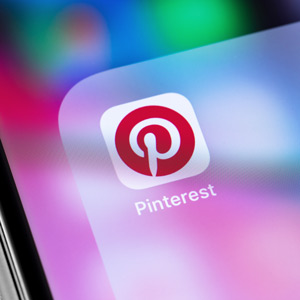 How to Get Started on Pinterest
While each social media platform are different from one another, they all have one thing in common. Creating and managing a business account must be consistent. It's also highly recommended that you follow the best practices recommended by the platform, combined with real-time recommendations from those who are very familiar with it. To learn how to get started, check out these tips for getting your business started on Pinterest.
Create a Business Page
If you don't already have a page for your business, you'll want to create a business account on Pinterest. This prevents you from pinning things for personal projects such as "how to renovate your bathroom" when your business is a meal delivery company. Pinning from irrelevant topics can confuse the algorithm on what your page is about, so you'll want to separate your business and personal. Plus, you'll get extra analytics that will help you gauge what type of content is best driving leads.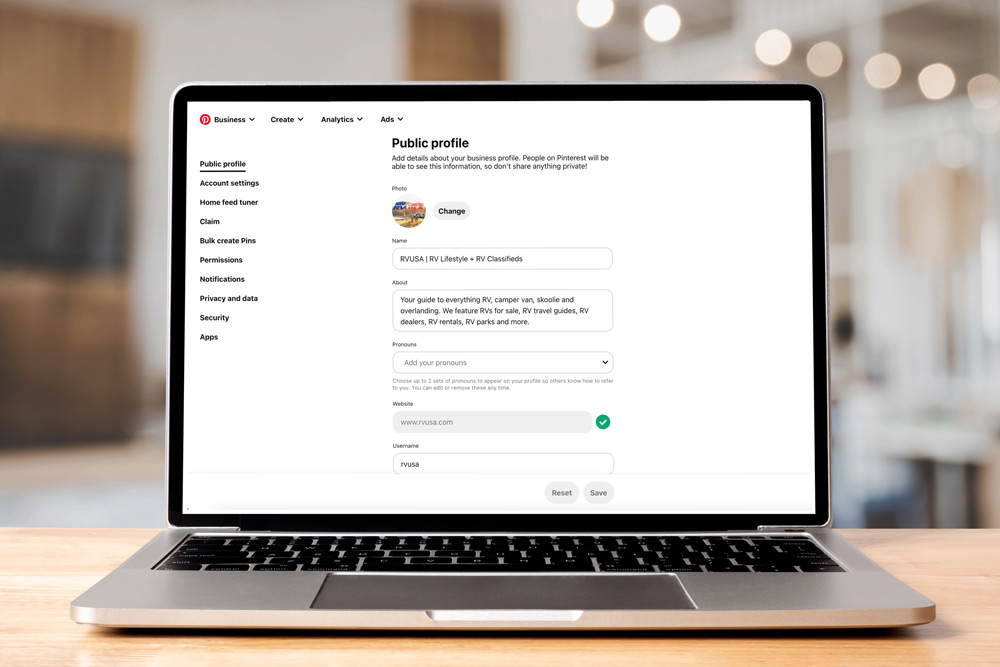 Optimize Your Profile with SEO
Because Pinterest is itself a search engine, search engine optimization is one of the most important aspects of successfully using Pinterest for your business. It starts with optimizing your profile for searches just like you'd optimize your website with SEO. Simply having your name and company slogan in your profile is not enough to help users find your profile. If they don't already know about your business, they aren't searching for you by name! Instead, they're searching for the type of business you have or the services and products you offer. Use those keywords in the "Name" and "About" sections on your profile.
Register Your Site and Create Rich Pins
You'll also want to ensure you claim your website on Pinterest under the "claim" tab. This ensures anything pinned from your URL by you or by others will register under your analytics and have your name and profile picture next to it. You'll also want to set up "rich pins," which automatically syncs information from your website as you create new pins. You can read this guide to applying for rich pins from Pinterest's help center to get started.
Pin Straight from Your Blog
Now that your website can generate rich pins, let's start pinning! Some web building platforms already have a feature installed where a Pinterest icon appears when you hover images. You can click the icon to pin the image to your Pinterest boards, and a rich pin will be generated. If your site doesn't already have this, you can install a Chrome extension that will let you do this on any website. We recommend using Pinterest to drive traffic to informational blogs where they'll be drawn in with calls to action. It's important to note that Pinterest and blogs go hand-in-hand. Unless you are pinning products for sale, it's hard to make Pinterest work for your business without a blog.
Create Original Pins
In addition to using rich pins from your website, you'll want to create plenty of original pins as well. You've seen these pins with text on them that read things like "10 Easy Weeknight Recipes" or "5 Road Trips You Have to Take." You can create these graphics using Canva or Pinterest's official scheduling platform partner Tailwind, which generates pin templates.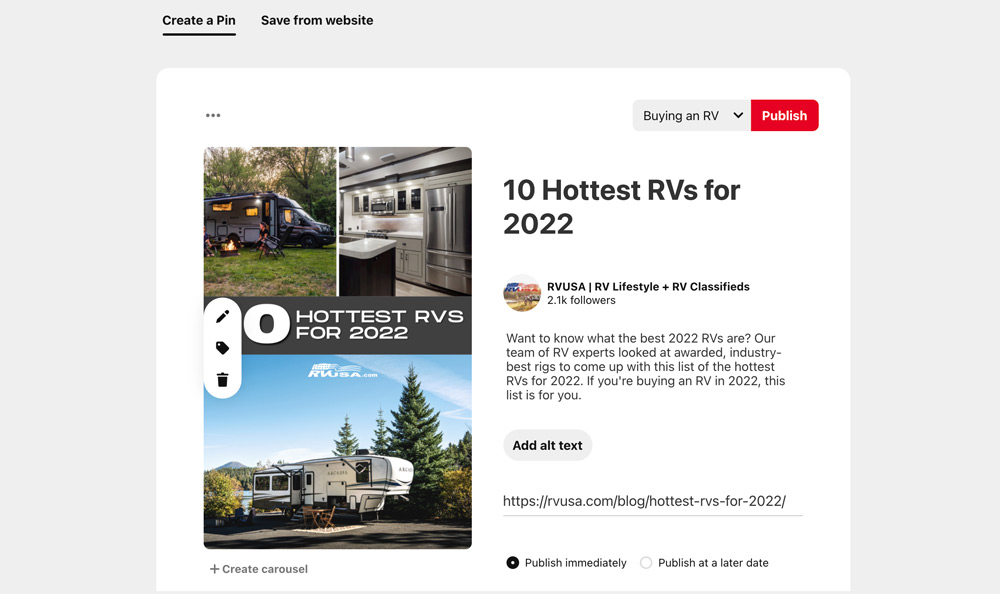 Optimize Your Pins with SEO
When you're creating your own pins with text that isn't auto-generated through a rich pin, surprise! You'll want to search engine optimize these too. Use keywords in the title as well as the description. We always do keyword research for our clients in their niche before writing pin titles and descriptions.
Avoid Square and Horizontal Images
As you're creating these pins, try your best to avoid pinning square and horizontal images. Pinterest's feed is designed for vertical pins. The platform says in their best practices that 2:3 ratio pins are best, or 1000px by 1500px. It also says that using any other size could "cause your pin to truncate or may negatively impact performance." In other words, the Pinterest algorithm prefers vertical pins.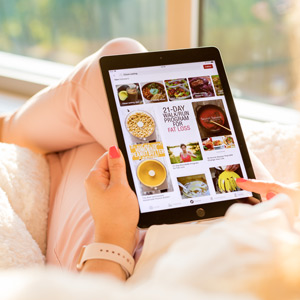 Pin Consistently
Just like many other social media platforms, Pinterest's algorithm much prefers for you to post consistently over time rather than going on a pinning spree. You want your pins to trickle out over time so the platform sees that you're active. Posting a few pins per day is a smart approach to Pinterest for your business. This can be a time-consuming task, so it's one of the reasons why outsourcing your Pinterest strategy can bring more return on your Pinterest investment. If you have trouble coming up with content on the fly, try creating a content calendar with pin ideas or topics to showcase on your Pinterest page ahead of time. 
Pin Single Images to Multiple Boards
When you create a pin, should you pin it to just one board? Not at all! If your pin applies to a couple different boards on your page, pin it there too. Some people may only follow one of your boards, so you're reaching different audiences with each board. Don't go overboard (pun intended?) but pinning a pin to 4-5 boards is a good idea. Just share it to different boards at different times to keep your consistency going and avoid a pin-storm.
Pin Other Creators' Content As Well
While your content that links back to your site and drives leads is the most important for you to share, Pinterest wants you to be part of its community. This is why it falls into the social media category and not just a search engine! Participate in the community aspect of Pinterest by pinning other pins in your niche. Try to avoid pinning competitors' content, but think of other adjacent topics people who are interested in your services may be searching for. Are you a wedding photographer? Try creating a board for wedding dress inspiration and pin a mix of your own photos of brides as well as pins from wedding gown designers.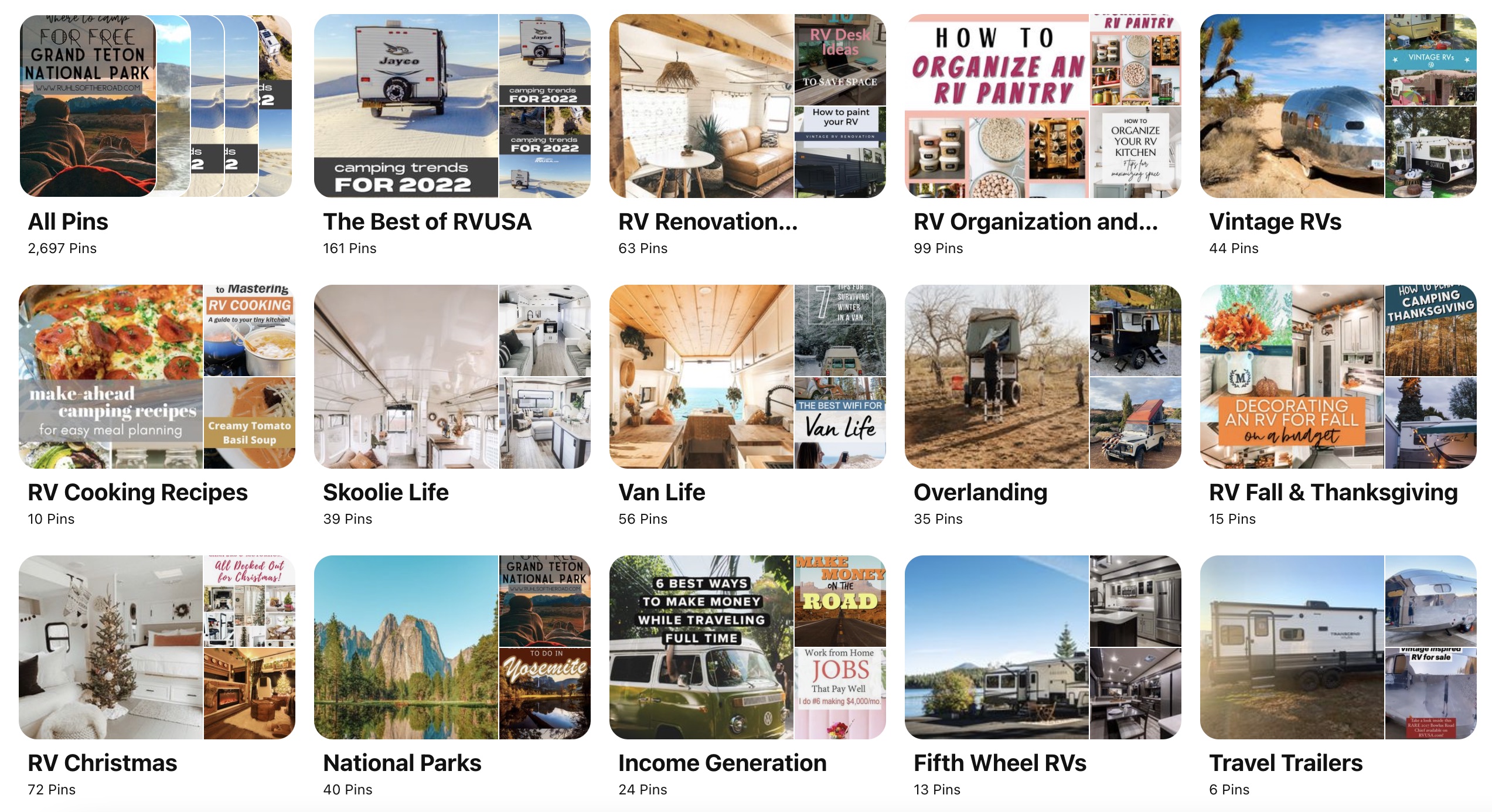 Drive Sales Using Pinterest for Your Business
Managing a successful Pinterest account for your business can be an overwhelming task. The good news: you don't have to do it alone! The professionals at NetSource Technologies are up-to-date with constantly shifting Pinterest best practices and know how to use this platform strategically to drive sales to your business. Don't waste time trying to learn how to navigate a social media platform when you can work with experts who have the experience it takes, so you can focus on doing what your business does best.
Need help managing your Pinterest strategy?
If you'd rather focus on your business than learning ever-changing social media strategies, let the experts at NetSource Technologies create a custom social media solution just for your business. Contact a Representative to learn more!